Fiberglass Molded Grating
Fiberglass Molded Grating
One-piece construction, composed of 65% resin and 35% continuous fiberglass strands, optimum for corrosion resistance and long service life.
D.E.F.I. offers a variety of grid configurations, resin systems and panel sizes.
D.E.F.I.'s fiberglass reinforced grating products are non-conductive, corrosion resistant, fire-retardant, light weight and are high strength. They provide excellent slip resistance and worker safety. All of our grating products are available as stock panels or can be fabricated to size to meet your specifications.
D.E.F.I.'s molded fiberglass grating is engineered to provide proven corrosion resistance and reliable service under extreme conditions. The interwoven square mesh construction provides bi-directional strength allowing for efficient panel usage and cutting to minimize waste. The high resin to glass ratio (approximately 65% resin to 35% glass by weight) provides excellent service life in the most demanding applications.
D.E.F.I.'s fiberglass molded grating is available in three standard resin systems each providing differing levels of corrosion protection. All three resin systems meet Class 1 Flame Spread Rating per ASTM E-84 test standards.
IFR: a premium grade Isophthalic Polyester Resin System that provides excellent corrosion protection. Standard colors available: Green, Yellow, Dark Gray and Light Gray
GP: a General Purpose Polyester Resin System offers good corrosion resistance at an economical price. Standard colors available: Green, Yellow, Dark Gray and Light Gray.
VFR: a Vinyl Ester Resin System provides the highest level of corrosion protection. Standard colors available: Orange

Available Top Surfaces:

Grit top – quartz grit anti-slip surface
Meniscus – concave, half moon cross section

Available Top Surfaces: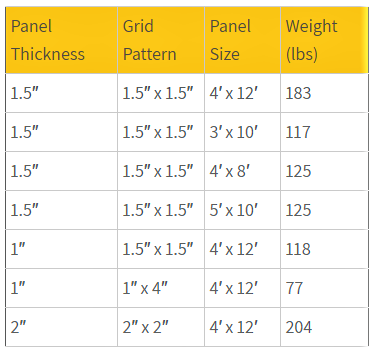 Polyester • ISO Polyester • Vinylester Resin Available
Fabrication
Stairs treads
316 SS clips and hardware
Covered grating
Tread covers
Solid plate